Marissa's Baby Album



At the Hospital

The big moment arrives...
We decided to induce labor a few days after the due date, partly because we felt ready, and partly because my doctor was leaving town that next weekend! It was more than 24 hours from beginning to delivery! When she finally came into the world, she did not want to cry at first. Then she sneezed a few times. She quietly cried (unlike now) and stopped to look around to see if anyone noticed, then she cried agian.

This is the picture taken while still at the hospital.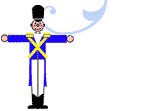 Birth Details
Delivered by: Louis Montanaro, M.D.

Nurses: several throughout the day
Others Present: Grandma, Grandpa and Aunt Maggie were waiting for the birth

First Visitors: Grandma, Grandpa, Aunt Maggie at the hospital